Europe's animation landscape of the past two decades wouldn't be the same without the productions com­ing out of the studios of Germany's Caligari Film. But company founder Gabriele M. Walther initially started by pro­ducing documentaries when she set up Caligari Film in 1986 after graduating from the Munich's University of Television & Film. In fact, Walther had earned her spurs as a producer during her studies by producing the first fiction feature film by fellow student Roland Emmerich, THE NOAH'S ARK PRINCIPLE in 1984.
In the following years, the company was active in producing all kinds of documentary formats – from docusoaps such as SOCCER FEVER to long-term documentaries such as HOUWELANDT and the prize-winning event documentary BEAUFORT 8 – THE EMIGRANTS SHIP 1855. In addition, for a short period, Constantin Film became a co-production partner on sitcom productions such as the German version of MARRIED WITH CHILDREN and WHO'S THE BOSS. Later on, Caligari Film produced Germany's most success­ful comedy show, HAUSMEISTER KRAUSE, for Sat.1 between 1998 and 2010 with 80 episodes.
SITCOMS TO ANIMATION
In terms of storytelling the approach of sitcom shows is quite similar to an animation show. Both always require character-driven storytelling," Walther recalls. "Making people smile about a situation is not easy, but to make some laugh is even more difficult in terms of storytelling. With the substantial experience and knowhow from all the sitcom shows I produced, stepping into animation was not too difficult. I just had to learn the technical side of the pro­duction."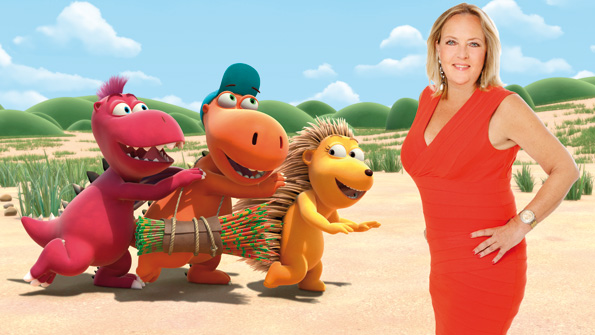 photo © Kurt Krieger
With the advent of new technologies and the needs to adopt a more international approach, animation became a more attractive prospect for Caligari Film. Consequently, the company has built up an international network of partners over the years for its animation feature film and TV projects. "We can either produce completely in Germany as we did on KNIGHT RUSTY when we are working with CGI technology, or we may have partners or sub-contractors abroad for a project," Walther explains. "It naturally depends on how the financing is put together, but our guiding principle is that all of the key creative decisions and work processes are undertaken in Germany," she stresses. "For instance, the development of the screenplay, a film's look and its design will all be done in Germany."
Caligari Film has dedicated divisions under its roof for animation, documentary/non-fiction and live-action, but this doesn't mean that they work independently of one another without any contact.
"It's very important for me that there is a lively exchange, for example, between documentary and fiction divisions because documentaries can often be inspiring for live action; our discussions within the company reflect the current social developments.
The company HQ continues to be based in Munich, and the Berlin branch is set to expand its activities in animation from 2015, while the Cologne operations focus on non-fiction and entertainment projects and Caligari's Stuttgart-based subsidiary Traffix Entertainment handles the animation projects. Most recently, Traffix was responsible for the complete pre-production of COCONUT THE LITTLE DRAGON – including the story­board, the set and character design, all CGI elements and numerous effects – while the animation was completed by sub-contractors in China with a supervisor from Stuttgart on hand to oversee the work and the post-production undertaken in Munich.
TWO-TRACK STRATEGY
From the outset of its involvement in the animation sector, Caligari has adopted the two-track strategy of producing a TV series parallel with the animated feature film: this started with the first feature film FELIX and the LETTERS FROM FELIX TV series for ZDF and KiKA. Since the production of KNIGHT RUSTY, Walther has also placed a greater emphasis on having control over the merchandising rights in one hand. "I think that this is extremely important with the advent of digital media and this calls for a so-called 360 degree approach," she says. "It means that we have a unified graphic line running from the films and series through to the merchandising products."
Walther and her team are always looking at developing original stories for animation, "but you need time to find the right story to bring to the market and have to develop the right strategy to reach your audience with what are yet unfamiliar story and characters. That's why we work with well-known brands and names so that the films can be given the right level of distribution," she continues. "In fact, Germany is an eldorado for great children's stories which also function on an inter­national level."
At the same time, she points out that one can't expect to recoup the production costs of films like KNIGHT RUSTY or COCONUT THE LITTLE DRAGON from the German market alone. "You have to understand that you only get the children's ticket price as takings; more­over, the way children spend their leisure time has changed so much that children's films are now seen more at weekends than during the week. This makes it harder to promote a film when there is a lull in admissions after the first weekend until the second weekend comes along."
INTERNATIONAL DIMENSION
Thus, the international market be­comes all the more important for such productions – another reason why the animated figures "speak" originally in English – , and the strong interest shown in KNIGHT RUSTY and COCONUT by international buyers is now encouraging Walther in exploring new financing models with international partners for her future projects. "This helps to secure the company a stable future and it's crucial these days to widen one's horizons," she notes.
Caligari Film's immediate projects will see another animated feature film based on the adventures of KNIGHT RUSTY, to be directed by the COCONUT directors Nina Wels and Hubert Weiland, and the animation project KÄPT'N SHARKY. "We are also open for live-action film projects," says Walther who was reunited with Roland Emmerich three years ago when he served as executive producer on Tim Fehlbaum's HELL. The apocalyptic thriller had its international premiere in Locarno after winning the Förderpreis Deutscher Film's award in the Best Director category at Filmfest Munich. HELL since picked up the prize for Best Cinematography and a Special Mention at in Sitges, the Bavarian Film Prize for Best Editing, and the 2012 German Film Award for Best Film Score.
"But you have to really make sure that a live-action film project is something that should be for a theatrical release because there is so much competition out there to get the audience's attention these days," she concludes.
Martin Blaney