Taking a short break from the recording studio where he and his band, Woods of Birnam, are working intensely on their second album, Christian Friedel emerges blinking into the sunlight, gets his bearings, makes himself comfortable and switches into actor mode: "The first time I saw THE WHITE RIBBON was at its world premiere in Cannes," he says of the now internationally celebrated film in which he made his feature length debut. "Michael Haneke wanted us all to see it there, together, so there I was, sitting behind Pedro Almodovar, surrounded by loads of stars, hav­ing this awesome experience!"
That's pretty cool in itself, as you'd agree, but could it get any better? Hell, yes! Because the film, in which Friedel plays the village teacher, went on to win the Palme D'Or 2009! As he says: "What more do you want?! I was actually at home when I found out it had won, which taught me the importance of staying on in Cannes if you think you've a chance of getting lucky! But I watched the livestream from home and was jumping for joy anyway!"
Friedel got the role "through the classic casting process: they wanted a young man, end 20s, who could play the piano! I had four casting calls, three with Michael. The whole thing was incredibly educational, an honor even. But I never thought I'd get it, so I was very relaxed about it all, and then ..."
"One of the many things I learned," Friedel continues, "is that, as Michael says, 'casting is half the film'. He looks a long time for the right actors and then on set you get the feeling of being given responsibility for the role, that it's up to you. When you also have a script that is so wonderfully worked out, with no open questions, you get to fill the role with your own personality. Michael knew it was my first film and was always there to explain and show."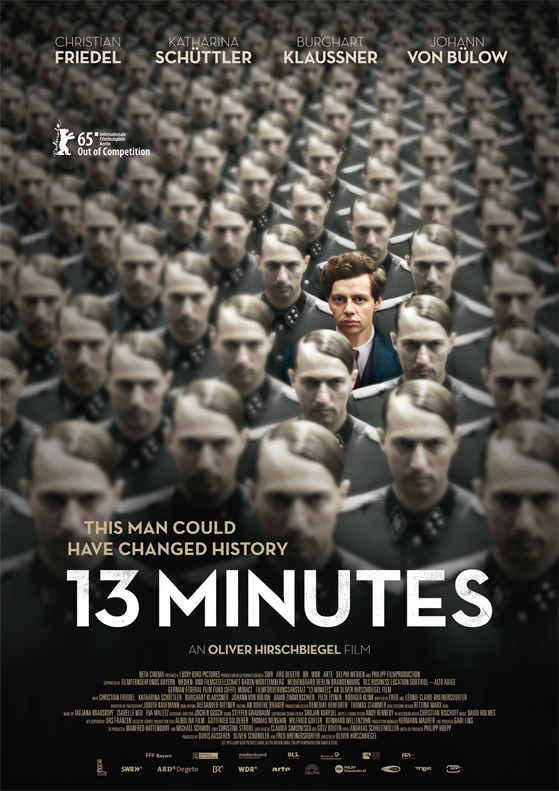 AS if the top award in Cannes was not enough, THE WHITE RIBBON went on to win the 2009 European Film Awards for Best Director and Best Script. The next year it won the Golden Globe for Best Foreign Film and was nominated in the same category for the Academy Awards®. Friedel "was with Burghart Klaußner at the time, rehearsing in Dresden for Don Carlos. We both got text messages and were beyond happy!"
It meant, of course, "going to L.A.", Friedel continues, "sitting in the auditorium in a small group, six of us, the producer Stefan Arndt, Michael and his wife and Burghart and Susanne Lothar. We'd actually had a good luck party before the show so, okay we didn't win, but just to be there, unforgettable." And, as consolation prizes go, if consolation is the right word, the film went on to win at Austria's Romy Awards 2010 and also took no less than ten accolades at the German Film Awards. Not at all bad for this young actor's first film outing.
Unable to resist the lure of a certain bit of southern France, Friedel was back in Cannes again in 2014, playing Heinrich von Kleist in Jessica Hausner's film, AMOUR FOU. "It had its world premiere in the Un Certain Regard," he explains. "It was super to be back and by that time I knew how the place works!"
Friedel describes the film as "artistically uncompromising, so just my thing, really! Scenes were played like still lifes, frozen in a time when the external imagination was more important than inner emotion. The texts were long, the takes were long, so it was a very special challenge for me as an actor. Jessica took out more than an hour and went for a narrative thread that was important to her, even though I painfully missed some scenes from my actor's perspective."
Jumping forward a year to 2014, Friedel next played the titular role in 13 MINUTES, the story of the 'lone wolf' Georg Elser who came so close to assassinating Hitler and thus almost changing world history. Again, he says, "it was through classic casting. For a role like this the actor must fit it." Can he identify with it? Can his personality merge with the character? "As an actor you need to know the artistic team and evolve with them, and here we had a change of director right before filming started!"
Other actors might have been daunted, but since it was Oliver Hirschbiegel picking up the reins, Friedel had no worries: "He did it incredibly and it was fantastic to experience such great teamwork on set. The DoP, Judith Kaufmann, was also fantastic, and there was such a great release of energy: we trusted each other and that flowed into the character."
As an actor, Friedel finds "it's important that I am challenged, ideally by multi-layered roles, with characters who have a secret that comes out slowly, who have tensions and questions marks. I love roles that are nothing like my own personality and am lucky to be of­fered them. I like discovering new things in a role that push me to my limits so I can overcome them."
Of his upcoming projects Friedel singles out the television series BABYLON BERLIN, from Tom Tykwer, and various theater projects in his home town of Dresden, such as his playing Hamlet, Don Carlos and even Portia in The Merchant of Venice. But he's keen to get back to the other love of his life, music. "The album's out in spring 2017, our second one, and it's called Grace. It's pop with many 80s influences; very electronic at times, also experimental and atmospheric. Not so much mainstream as more indie, and certainly not smooth!"
Given he is an accomplished keyboard player and accordionist, as well as singer, it is no surprise that not only is music more than important to him, for Friedel "it also goes hand in hand with me as an actor, it belongs to me since childhood. I don't need to sing in films, of course, but take comedy, where tempo is essential. I love bringing in things from music, like the atmosphere. If I can work in both areas then I'm very happy: they're my two artistic expressions."
Friedel's father was a doctor, his mother an economist. "They were interested in art and my mother was a regular theater-goer," he says. "My grandfather was in a jazz swing band and played many instruments but I never met him, sadly."
High on his wish-list, Friedel "would very much like to make a genre film, science fiction or fantasy, or a Western, perhaps, something in a world that is born in imagination but still has very much to do with our reality. My films to date," he continues, "are very close to people, reality, psychological. I'd love to be in a really, really good comedy too."
So far he has kept his directing experiences to the theater but, no surprise, "I'd love to do a film and am thinking about a story where the band plays a role so as to bring music and acting together. Not a musical itself, but something higher, like Björk's DANCER IN THE DARK. But this is something for the future. I directed all our music videos and had fun doing as much as possible with the few means we had. I'd love more means, though!"
Friedel's idea of relaxation is going to the cinema, something he "would do every day, if I could! I relax at home watching big series and love the new form of long narratives which really give actors opportunities to go longer and further with characters." Among his recent viewings are WHIPLASH ("Impressive because it's so physical and does so much with music and its demands") and both series of FARGO ("one right after the other"). He is currently loving BETTER CALL SAUL, with its "feeling for great scripts and character development, the roles being given time to develop. It's also very funny, so a pleasure to watch."
In terms of his career, Friedel actively resists what he calls "the German tendency to put people in drawers and categories. I think of Peter Ustinov who was so good in so many areas, and that is important for me. I want to overcome limits and to find out what is inside me in artistic output, I need to work against myself and also increase people's perception of me as an actor and musician."
About acting itself, Friedel really enjoys "its child-like qualities, discovering without thinking, keeping the inner child alive. I love working with people who have this, this curiosity, who are open to new ideas and expression, still sometimes being like young children. You should never lose it," he continues, "and I don't understand why getting older means giving this up! I was, in the past, scared of growing up because all the beautiful things would be lost, but it doesn't have to be like that."
All this time Friedel's been keeping his hand movements well under control, expressing himself verbally. "It's not because I'm not physically expressive," he replies when asked, "but on a subject I know very well I can explain calmly and let the subject have the front. We're talking about acting and music, the sun is out and open air interviews are also fun!" But you can tell he's now very keen to get back inside, to his bandmates and the recording studio.
Simon Kingsley