Face to Face – German Talent in the Spotlight
Since its first edition in 2016, the annual FACE TO FACE campaign by German Films, the national information and advisory center for the promotion of German films abroad, has established itself as a platform with a signal effect, providing the German film talents with international visibility and drawing the attention of the global film industry to a selection of the country's most exciting newcomers and professionals. Since 2021, it has been important for German Films not only to focus on actors, directors and screenwriters, but to also include other trades within the film industry so as to pay respect to those talents who are also doing outstanding work behind the camera. Film more than any other art form relies with its complex creative process, in particular, on the collaboration of creative minds with diverse skills and backgrounds.
In 2023, the FACE TO FACE WITH GERMAN FILMS – THE FILMMAKERS campaign is once again presenting the entire range and diversity of German filmmaking, introducing seven new FACES: screenwriter SÖNKE ANDRESEN, actor WELKET BUNGUÉ, composer DASCHA DAUENHAUER, director, actor and writer ALISON KUHN, director, actor and writer LUKAS NATHRATH, writer and director REZA MEMARI and actor LENA URZENDOWSKY.
"German Films is not only about promoting and supporting German films, but also about spotlighting the professionals who create them", Managing Director Simone Baumann declares. More than ever before, this year's line-up of FACE TO FACE shows how diverse and versatile the talents of local filmmakers are. Not only in terms of their origins and influences, but their fields of work and skills. Not to mention the fact that a glance at these young creatives give a very clear indication of the high reputation the quality of German film and series productions now enjoy internationally. The work of this year's campaign ambassadors has been and continues to be featured at festivals around the globe, and quite a few of them are regularly collaborating with colleagues from all over the world for their projects.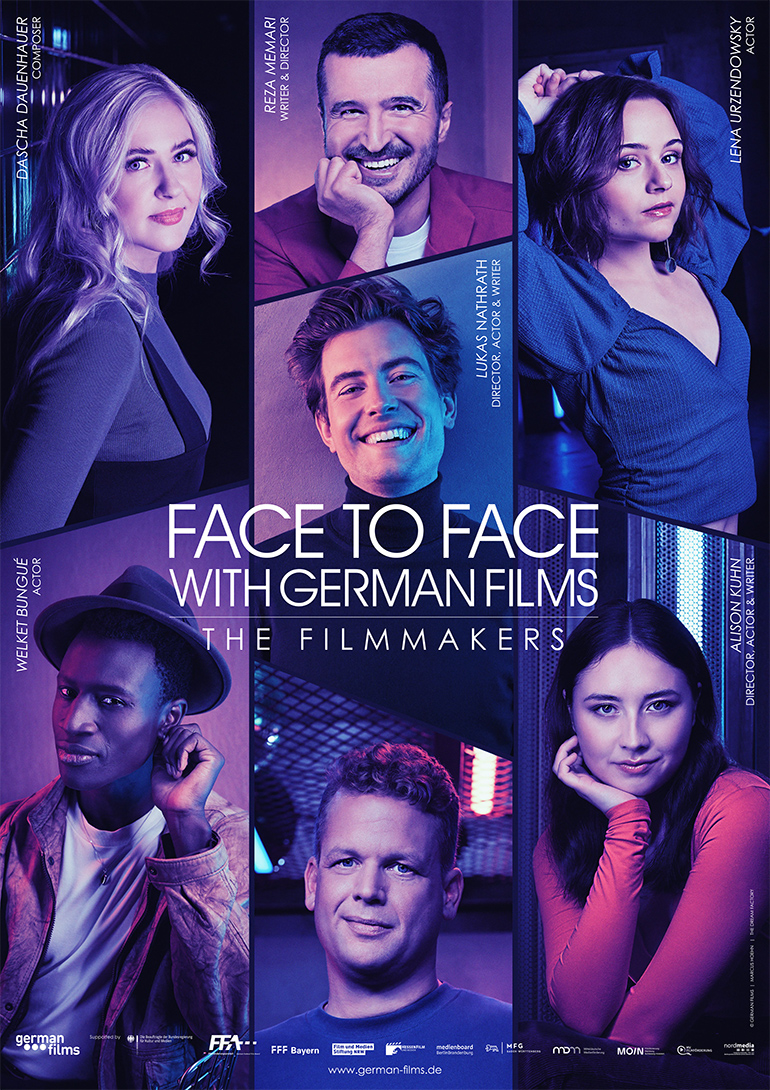 SÖNKE ANDRESEN
Born in Hamburg in 1977, Sönke Andresen initially studied Screenwriting at the German Institute for Literature in Leipzig before completing teacher training for German at the University of Utrecht. In 2007, he received a scholarship to attend the Drehbuchwerkstatt München (Script Lab Munich) and has since worked as a screenwriter for film and TV series. In addition, he frequently writes plays for the theatre.
Andresen has collaborated on a regular basis with the director Axel Ranisch since the internationally multi-award winning film I FEEL LIKE DISCO (2013). They also worked together on two TATORT episodes and the Grimme Award-winning TV film FAMILIE LOTZMANN AUF DEN BARRIKADEN (2019). In addition, Andresen has frequently been involved as a writer on various series such as the second season of OTHER PARENTS, which earned him a nomination for the German Comedy Award in 2020.
2023 will see the German theatrical releases of the screen adaptation of Isabel Bogdan's novel THE PEACOCK, with Lavinia Wilson, Jürgen Vogel and Tom Schilling, for which he wrote the screenplay together with Christoph Mathieu, as well as the opera film ORPHEA IN LOVE, which is another collaboration with Ranisch. They also worked together on adapting Ranisch's novel NACKT ÜBER BERLIN as a series to also be premiered this year.
WELKET BUNGUÉ
Welket Bungué, who was born in Guinea-Bissau in 1988 and moved to Portugal with his family at the age of three, had his breakthrough in German-language cinema in 2020 with the lead role in Burhan Qurbani's highly acclaimed adaptation of the Döblin classic BERLIN ALEXANDERPLATZ. The film celebrated its world premiere in competition at the Berlinale, was nominated in several categories for the European Film Awards and, among other prizes, received the German Film Award in Silver. Bungué himself was nominated for the German Film Award and also picked up a prize at the Stockholm International Film Festival.As an actor, he has appeared in as many as 40 films over the past 15 years, including Ivo Ferreira's historical drama LETTERS FROM WAR (2016) and BODY ELECTRIC (2017) by Marcelo Caetano. Most recently, he could be seen in David Cronenberg's CRIMES OF THE FUTURE (2022), which had its world premiere at Cannes.
In addition, the Berliner-by-choice, who studied in Lisbon and Rio de Janeiro, runs the production company KUSSA together with his brother Welsau based in Paris. As a director, Bungué has also directed numerous short films screened at festivals worldwide, such as MUDANÇA which premiered in Forum Expanded at the Berlinale in 2020 and CALLING CABRAL (2022).
DASCHA DAUENHAUER
Music played a role from early on in the life of Dascha Dauenhauer who was born in Moscow in 1989. She learned to play the piano and to compose at the age of five. After her family moved to Berlin Dauenhauer attended at the "Acad­emy for exceptionally gifted children and young people" and was accepted as a young student at the "Hanns Eisler" Academy of Music in Berlin. During this time, Dauenhauer was already composing her own pieces and had numerous public performances with self-composed pieces. Her orchestra piece SINFONIETTA celebrated its world premiere at the Berlin Philharmonic in 2004. She completed her studies in Music Theory at Berlin's University of the Arts (UDK), fol­lowed by a master's degree in Film Music at the Film University Babelsberg Konrad Wolf. Since then, she has been working as a film composer.
In 2018, she was nominated in no less than three categories for the German Film Music Award and won in the category "Best short film" and "Newcomer". Two years later, she received the German and European Film Awards, among others, for her score to Burhan Qurbani's BERLIN ALEXANDERPLATZ. She also wrote the score for Kornél Mundruczó's EVOLUTION (2021), which was premiered at Cannes International Film Festival, and Peter Thorwarth's Netflix success BLOOD RED SKY (2021), and won an award at the Max Ophüls Prize Film Festival for Alison Kuhn's THE CASE YOU (2020). She received another award at the Cannes International Series Festival for the TV series SOULS in 2022.
Dauenhauer also wrote the scores for the TV series THE SWARM, which will have its world premiere during the 2023 edition of the Berlinale, as well as Guy Native's upcoming historical drama GOLDA with Helen Mirren.
ALISON KUHN
Born in Saarbrücken in 1995, Alison Kuhn already won numerous awards for her first feature-length film THE CASE YOU (2020). The impressive examination of abuse of power and sexual exploitation was awarded the German Documentary Film Award for Arts & Culture, won Best Documentary at the Achtung Berlin festival as well as awards at DOK.fest Munich and the Max Ophüls Prize Film Festival, among others. The film was also screened at IDFA and CPH:DOX and was on general theatrical release in Germany in 2022.
After Kuhn's short film FLUFFY TALES (2021) was nominated for the German Short Film Award, shortlisted for the BAFTA Student Award and screened in Cannes as part of the Next Generation Short Tiger programme, her medium-length film THE SWARMERS (2022) was recently nominated for the First Steps Award and the Michael Ballhaus Award and screened in Hof, Palm Springs, Krakow and at the AFI, among others. In addition, the German-Vietnamese directed the first three episodes in the eighth season of the prize-winning series DRUCK (2022), and she is currently directing a new mini-series that will be released in 2023. Following that, she will be shooting two feature-length films for a the­atrical release.
Kuhn, who studied at the Film University Babelsberg Konrad Wolf, has also frequently appeared in front of the camera as an actor. As a writer, she received the German National Award for Young Poetry LYRIX in 2017 and regularly contributes screenplays for films and series.
REZA MEMARI
Born in Iran and raised in Bavaria from the age of three, Reza Memari is a director and screenwriter, and the co-CEO of Telescope Animation. After studying Marketing Communications and working as a product manager for a major US video game publisher, he initially gained a foothold in the film industry as an editor. Memari's debut animated feature film RICHARD THE STORK (2017), which he wrote, co-directed and edited, premiered at the Berlinale in 2017 and received the Bavarian Film Award, among other prizes.
After this global success, Memari co-founded Berlin-based Telescope Animation together with Maite Woköck in 2018 to develop, finance and produce gripping story universes across multiple media platforms. Two years later they launched Telescope Animation Studios in Hamburg, and most recently Telescope Game Studios in Brandenburg. Memari is currently working on several projects, including THE LAST WHALE SINGER, an epic underwater adventure that will be launched as a feature film, game and television series.
LUKAS NATHRATH
After appearing as an actor during his teenage years in films by renowned filmmakers such as Joseph Vilsmaier and Achim von Borries, Munich-born Lukas Nathrath initially studied North American Studies majoring in Film and attended an acting semester at the London Academy of Music and Dramatic Art. He then completed his Master's degree in Film Directing at the Hamburg Media School.
In 2018, he was invited to German Films' Next Generation Short Tiger Programme at the Festival de Cannes with his short film MORALE (2018), while his graduation film KIPPA (2019) was screened at more than 50 international festivals and won the European Young CIVIS Media Prize and the Studio Hamburg Young Talent Award, among others. In 2020, he was Filmmaker in Residence at Basel House of Film; the following year, he participated in the Munich script lab Drehbuchwerkstatt München, where he developed a feature film script.
Nathrath's tragicomedy ONE LAST EVENING (2022), shot in just seven days, won the top prize in the First Look section at the Locarno Film Festival last year. The film, which he also co-wrote and produced, was subsequently invited to screen at both the Tiger Competition of the International Film Festival Rotterdam and the Max Ophüls Prize Festival in early 2023. The director, who recently also took over the second unit on several high-end series productions, is currently developing various new projects, including a darkly comedic psychological thriller and an episodic tragicomedy.
LENA URZENDOWSKY
Born in Berlin in 2000, Lena Urzendowsky dis­covered her love of acting at a young age. She attended the renowned Stagefactory in her hometown, appeared on stage in the title role of the musical ANNIE and eventually made her debut in various TV productions. She received the Günter Rohrbach Film Prize and the Grimme Award, among others, for her performance in the TV drama THE WHITE RABBIT (2015) and was presented with the German Television Award, the German Acting Award and the Hessian Television Award for the critically acclaimed biopic DER GROSSE RUDOLPH (2018). She was also feted for her lead role in the feature film COCOON (2019) which opened the Generation section at the Berlinale in 2020. Urzendowsky's performance in this film attracted prizes at international festivals as well as the Bavarian Film Awards. The Berliner is now also known to audiences far beyond Germany thanks to various roles in series of major international streamers such as the German global success DARK (2017/2019, Netflix) and HOW TO SELL DRUGS ONLINE (FAST) (2020, Netflix), Philipp Kadelbach's WE CHILDREN FROM BAHNHOF ZOO (2021, Amazon Prime), as well as the inter­national co-production THE DEFEATED (2020) with Taylor Kitsch and Nina Hoss.
In 2023, Urzendowsky will not only be starring in the new Amazon series LUDEN (2021), but can also be seen in such feature films as BEYOND THE BLUE BORDER (2021/2022) by Sarah Neumann, Birgit Möller's FRANKY FIVE STAR (2022), Michael Klier's DAS SCHÖNSTE IST DER FLUSS (2022/2023) as well as FROM HILDE, WITH LOVE (2022) by Andreas Dresen.
Patrick Heidmann