While the first German animation films were made before the First World War, the first animator to command an international reputation was Lotte Reiniger, who became famous for her silhouette films created from back-lit paper cut-outs. She made her first animation film – THE ORNAMENT OF THE LOVESTRUCK HEART – in 1919, while her 1926 classic THE ADVENTURES OF PRINCE ACHMED is regarded by many as the first ever feature-length animation film consisting of 250,000 single images. In addition to shooting experimental shorts and silhouette films from the late 1920s to the mid-1930s, Reiniger also worked on silhouette sequences for such live-action features as Georg Wilhelm Pabst's DON QUIXOTE (1933) and Jean Renoir's LA MARSEILLAISE (1937) before emigrating to Great Britain in 1936 where she lived and worked until 1980.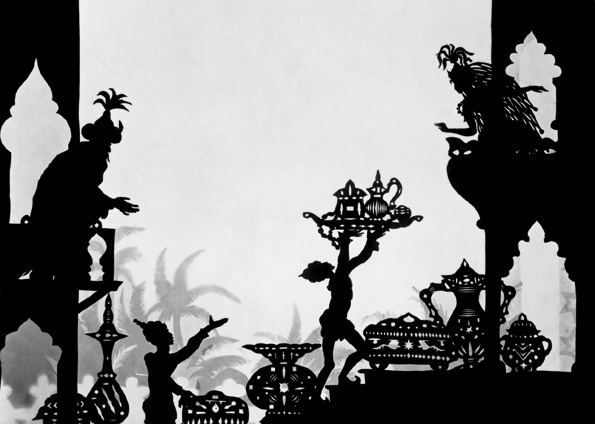 THE ADVENTURES OF PRINCE ACHMED (courtesy of Deutsche Kinemathek)
Another key figure from the silent movie era was the avant-garde animator and painter Oskar Fischinger, who experimented with photographing multiple forms such as melting wax, cardboard cutouts and swirling liquids. He worked at the UFA studios in Babelsberg on special effects for Fritz Lang's silent science fiction film WOMAN IN THE MOON (1928) and also received commissions from the advertising industry. While Fischinger's work earned him increasing inter­national attention, the Nazis, however, did not share this enthusiasm, declaring his work to be "degenerate" in 1936. Forced to leave his native Germany, he made a new home in Los Angeles, working for such studios as Paramount, MGM and Walt Disney (he was responsible for the memorable scene of broomsticks marching in goose-step style in THE SORCERER'S APPRENTICE episode of the 1940 classic FANTASIA) and spearheaded the development of the experimental film movement in America.
ANIMATION UNDER THE SWASTIKA
Meanwhile, back home under the Nazis, there was little chance of German animators being able to explore new artistic channels in the new climate, although Josef Goebbels' Film Ministry ordered those filmmakers who had remained in Germany to step up their production and concentrate on animation features which could be released in the cinemas.
Hans Fischer – also known as Fischerkoesen – directed and produced animated fairy-tale fantasies such as WEATHER-BEATEN MELODY (1942), SNOWMAN (1943), and THE SILLY GOOSE (1944) which were regarded by many as being on a par with the productions from Walt Disney. After the war, he resumed his career, working on commissions for the advertising industry with shorts for such brands as Aral, Haribo and AfriCola, and is also credited as being the creator of the mascot for public broadcaster Hessischer Rundfunk, the cartoon seal known as "Uncle Otto".
As Jennifer Lynde Barker notes in her essay on Fischerkoesen in the 1950s for the book accompanying the Locarno Film Festival's Beloved and Rejected retrospective dedicated to the cinema in the young Federal Republic of Germany from 1949 to 1963, "Germany's Walt Disney" was adept at tapping into international trends of animation from filmmakers as diverse as Disney, the Fleischer brothers, Norman McLaren, Claire Parker and Ladislav Starewicz for his own work.
Meanwhile, the three Diehl brothers – Paul, Hermann and Ferdinand – concentrated on puppet animation based on fables and fairytales after initially starting out in classical animation and silhouette films (their short THE CALIPH STORK was inspired by the work of Lotte Reiniger and based on the fairytale by Wilhelm Hauff). Their greatest success came with the films around the figure of the hedgehog "Mecki" who first appeared unnamed with his eternal rival, the hare, in the short WETTLAUF ZWISCHEN HASE UND IGEL, based on the Aesop's fable, in 1938. After the war, "Mecki" became a household name, spawning numerous stop-motion animation films and books as well as a flood of toys when the figure was licensed to the renowned German stuffed-animal manufacturer Steiff. In addition, the loveable hedgehog was the star of a weekly comic strip in the HörZu listings magazine for a quarter of a century from 1951. Based in their studio on the outskirts of Munich, the Diehls made more than 60 films, some combining puppet animation with live-action, and over 100 commercials until 1970.
POST-WAR YEARS
After 1945, Germany was flooded with animated films from the US, particularly from Walt Disney. After living under 12 years of the Nazi terror and excluded from the latest films (and music) from across the Atlantic, the Germans were naturally keen to catch up on the pleasures forbidden them by the Nazis and this included films from Hollywood.
As Albrecht Ade, the founder of Stuttgart's internationally renowned animation festival, pointed out in a publication celebrating the new generation of animators in the mid-1980s, Disney and other studios set the agenda from the 1950s as far as the German audiences' tastes for animation were concerned. In the 1950s, German animators flourished mainly in the world of advertising – and also produced shorts for the West German election campaigns in 1957 and 1961.
THE OBERHAUSEN GENERATION
Meanwhile, a number of animators – Wolfgang Urchs, Boris von Borresholm – were among the group of filmmakers who signed the Oberhausen Manifesto in February 1962. Urchs had made GARDEN GNOMES the previous year, spotlighting the social aspects of life in the young Federal Republic, and followed with highly political shorts like DIE PISTOLE (1963) and KONTRASTE (1964).
However, it was over two decades before he produced his first feature-length animation film, IN DER ARCHE LIEGT DER WURM (known as STOWAWAY IN THE ARK in the US), which was released in the cinemas in 1987 and followed this three years later with PETERCHENS MONDFAHRT.
1962 also saw Hamburg-based Helmut Herbst establish his animation studio Cinegrafik to work on animation sequences for industrial films and TimeLife as well as promotional trailers for the Third Channel of public broadcaster NDR. Herbst subsequently also served as the producer for such independent filmmakers as Hellmuth Costard and Harun Farocki as well Franz Winzentsen, a collaborator at Cinegrafik, who made many animation films for children's TV schedules at NDR and WDR, including HIN- UND RÜCKFAHRT (1984/5) and TELEFONFIEBER (1984/5) and continues to make short animated films, combining the functions of director, screenwriter, camera, animation and producer, among others, under one hat.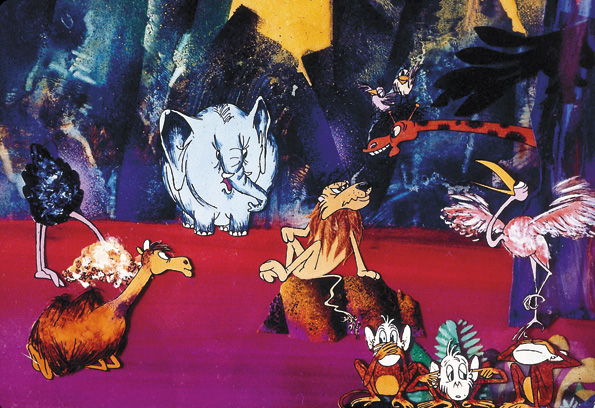 KONFERENZ DER TIERE (courtesy of Deutsche Kinemathek)
CURT LINDA
The first German feature-length film in color – the Erich Kästner adaptation DIE KONFERENZ DER TIERE – was produced in 1969 by Curt Linda who had set up his own animation studio, Linda-Film Produktion, in December 1961 and won a Film Ribbon in Silver at the German Film Awards in 1967 for his satirical short DER SPEZIALIST. While he was mainly occupied in the 1970s on producing animated TV series such as SENSATIONEN UNTER DER ZIRKUSKUPPEL (1971/74) and OPERA PRESTO (1976/77), Linda enchanted generations of German children with such features as SHALOM PHARAO (1982), HAROLD UND DIE GEISTER (1988, with live-action sequences), and DAS KLEINE GESPENST (1992), based on Otfried Preußler's popular children's book.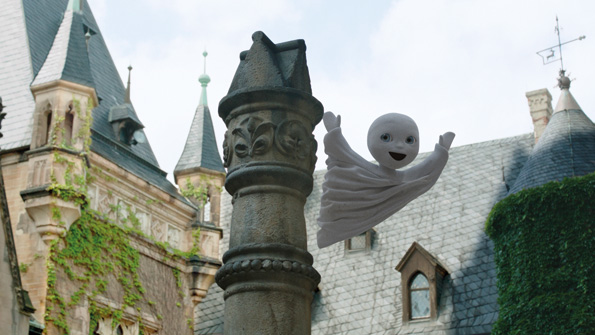 THE LITTLE GHOST (© 2012 CWP-Film/Walter Wehner)
He closed the doors to his studio after completing one last feature, DIE KLEINE ZAUBERFLÖTE, inspired by Mozart's opera, in 1998. Three years later, the German Film Awards presented an honorary award to the veteran animator in recognition of his outstanding services to German cinema. Linda and his team were praised for wanting to offer an alternative to the "American style of over-dynamic movements and the mad hectic pace of the characters" with imaginative stories, the soft and gentle approach and careful drawing.
DEFA STUDIO FOR ANIMATED FILM
Aparallel animation scene developed in the former German Democratic Republic (GDR): the DEFA Studio for Animated Film was founded in Dresden in 1955, producing mostly children's and family films as well as, on occasion, adult satires and artistic films. The studio became a gathering place for artists from a variety of related disciplines, including graphic design, commercial graphics, pup­petry and information films as well as production groups specializing in puppet animation films, silhouette films and the classic 2-cell animation. Over 2,000 films were made for the cinema, television and other institutions until 1990. Short films were made each year for the Children's General Program to be shown to kindergarten and nursery school groups, while others served as supporting films before the main features in the cinemas.
Writing in Animation: A World History, Giannalberto Bendazzi observed: "The studio's work was often described as spoon-feeding, as it had to comply with socialist realism. Puppets and cartoon characters could not be too aloof. They had to be as natural as possible so they were not associ­ated with the negative rating, 'Formenhascherei', (meaning, straining after formal effects). Intervention, control and eavesdropping at the studio lasted till the end of the East German regime."
Among the studio's leading figures were the late Kurt Weiler, Sieglinde Hamacher and Günter Rätz. Weiler – who received the DEFA Foundation's Award for Services to German Cinema in 2004 – was known for his puppet animation on such films as DIE GESCHICHTE VON KALIF STORCH (1984) as well as provid­ing the animated sequences for productions at the DEFA Studio for Feature Films, including Rolf Losansky's EIN SCHNEEMANN IN AFRIKA (1977) and Hannelore Unter- berg's KONZERT FÜR BRATPFANNE UND ORCHESTER (1976).
Known for her distinctive graphic style of ballpoint drawings and parable-like stories, Hamacher was behind such artistically challenging and politically non-conformist works as KONTRASTE (1982) and THE SOLUTION (1988).
Ratz has directed more than 60 films, including the internationally successful series FILOPAT AND PATOFIL (1962/68) as well as the feature-length films THE FLYING WINDMILL (1981) and THE TRACE LEADS TO THE SILVER LAKE (1990), a puppet animation version of a classic Western based on the Karl May novel The Treasure in the Silver Lake.
Following the closure of the DEFA Studio, 1993 saw the German Federal Archive entrusting the German Institute for Animated Film (DIAF) in Dresden with the studio's estate and legacy. In addition to more than 2,000 film prints, the DIAF also archives an extensive collection of film-related materials and documents, particularly from the field of East German animated film. A permanent exhibition was opened by the Institute in 2002 on the complete works of the DEFA Studio for Animated Films at the Dresden Technical Museum.
GERMAN ANIMATION GOES ADULT
German animated feature films had traditionally been targeted at children, but this changed at the beginning of the 1990s thanks to two producer-directors, Gerhard Hahn and Michael Schaack, who had set up their animation studios in the previous decade in Berlin and Hamburg, respectively, when they decided to try their hand at more "adult" subjects.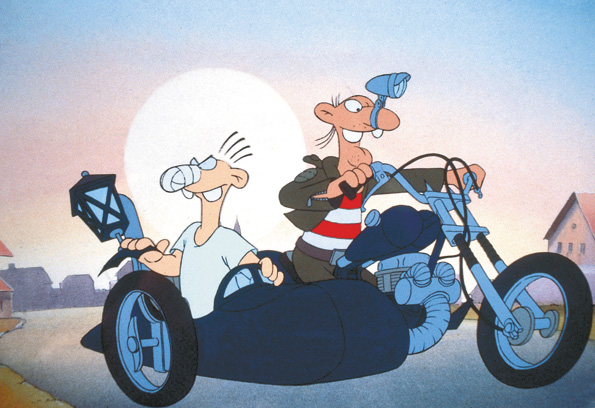 WERNER (courtesy of Senator Film)
They joined forces with Rötger "Brösel" Feldmann, the mastermind behind the cult Werner comic strips, to bring the adventures of the unemployed biker and his beer-swilling mates to the big screen, with the first film, WERNER – BEINHART (1990), attracting some 5.4 million German cinemagoers.
This spawned a highly successful film franchise – naturally with all kinds of merchandising tie-ins – consisting of WERNER – EAT MY DUST (1996), WERNER – VOLLES ROÄÄÄ!!! (1999), WERNER – GEKOTZT WIRD SPÄTER (2003) and, the last outing to date, WERNER – EISKALT!, directed by veteran cinematographer Gernot Roll in 2011.
Another successful comic book property, Walter Moers' Little Asshole, was brought to the cinema by Schaack in 1997 and became one of the most successful domestic theatrical releases of that year with over 3 million admissions.
At the same time, Hahn and Schaack remained true to the animation industry's core audience – now known as family entertainment – by producing feature films based on the children classics Pippi Langstrumpf and Das doppelte Lottchen or TV series centered around such characters as Benjamin Blümchen, Bibi Blockberg and Urmel..
BRANDS AND CLASSICS
Moreover, the German outpost of US major studio Warner Bros. played an important role in co-producing and/or distributing locally- made animation from the end of the 1990s on such titles as Munich Animation Film's updated version of the Bremen Town Musicians in THE FEARLESS FOUR, or the late Thilo Graf Rothkirch's THE LITTLE POLAR BEAR and LAURA'S STAR franchises.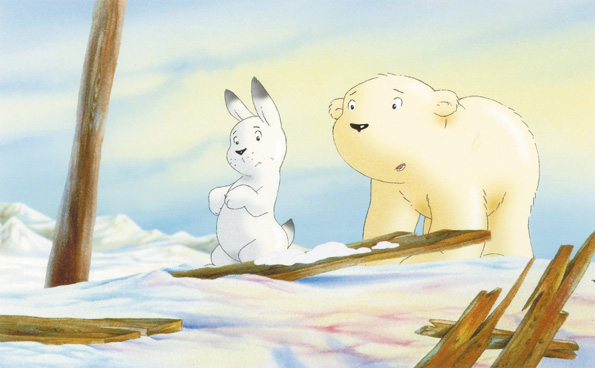 THE LITTLE POLAR BEAR (courtesy of Rothkirch Cartoon Film)
In recent years, Universum Film has joined Warner Bros. as one of the key distribution/ production partners for German animators, building up such brands as COCONUT THE LITTLE DRAGON, RAVEN THE LITTLE RASCAL, MAYA THE BEE MOVIE, and KNIGHT RUSTY.
A third home for German animation, Constantin Film, the distributor of the WERNER films, co-produced and distributed the 3D animation films IMPY'S WONDERLAND (2008), ANIMALS UNITED (2010), and the family action drama TARZAN (2013).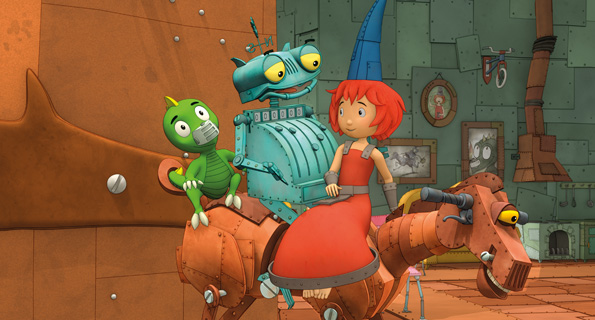 KNIGHT RUSTY (courtesy of Sola Media)
ANIMATION AND VFX MADE IN GERMANY TODAY
According to the European Audiovisual Observatory's recent study Mapping the Animation Industry in Europe commissioned by the European Commission, Germany ranked fourth in the European Union in production capacity with 20 animation features released theatrically between 2010 and 2014. These included such films as ANIMALS UNITED, LAURA'S STAR, and PRINCESS LILLIFEE AND THE LITTLE UNICORN.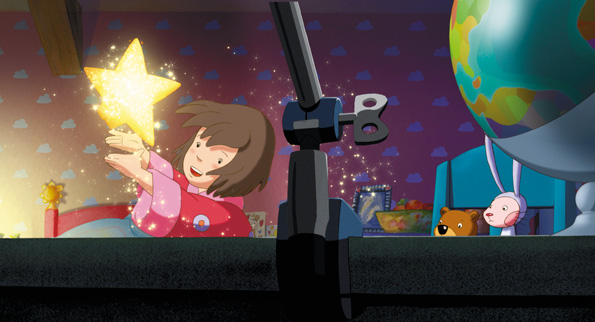 LAURA'S STAR (© Rothkirch Cartoon Film)
However, as Akkord Film's Dirk Beinhold notes, "the volume of animated production out of Germany is relatively low, and budgets are modest in comparison with France or the UK." He produced two 2D-animated feature films – RAVEN THE LITTLE RASCAL 1 & 2 – with budgets of around $5 million each, which were raised from within Germany alone. "But this is the exception, the budgets were relatively low, and 2D animated features are not as attractive internationally anymore," he reports.
RAVEN THE LITTLE RASCAL (© Akkord Film Produktion)
"At Akkord Film, we work very hard to adapt our local brands like the upcoming CG-animated feature film RABBIT SCHOOL – GUARDIANS OF THE GOLDEN EGG, which is based on a traditional German Easter book, into internationally appealing family entertainment by spending years on story development," Beinhold explains. "At this stage, we only develop simple 2D designs in order to avoid design and technology dictating content. It is only then that we start modelling our characters to serve the story. Nowadays, 3D/CG animation like RABBIT SCHOOL sells almost ten times better in the rest of the world than 2D animation. However, German-speaking countries and territories like France still appreciate 2D animated features like our RAVEN THE LITTLE RASCAL."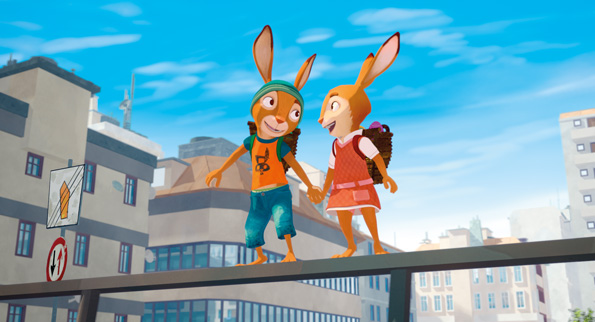 RABBIT SCHOOL – GUARDIANS OF THE GOLDEN EGG (© Akkord Film Produktion/Universum Film))
Meanwhile, Trixter's Michael Coldewey points out that German animation nowadays tends to be filed under the 'childrens film' label whereas the US productions à la Pixar are always regarded as 'family entertainment' and also attract adult cinemagoers who wouldn't necessarily go to see a German animated feature. "There was a change with films like WERNER and LITTLE ASSHOLE when the German animation scene found a niche to attract adults to its films, but this development didn't last," he recalls.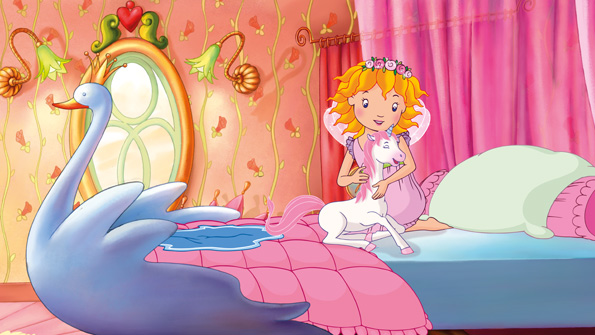 PRINCESS LILLIFEE (© 2009 Universum Film/Coppenrath Verlag)
Tania Reichert-Facilides agrees that German animation feature films are invariably based on existing brands and targeted specifically at young children. "For example, you won't see a teenager going to see COCONUT THE LITTLE DRAGON," she says. From 1998 to 2010, Reichert-Facilides had been the CEO of the video distributor Universum Film, overseeing the expansion of its operations into DVD and theatrical distribution and handling the releases of such animation features as PRINCESS LILLIFEE, MOONBEAM BEAR and THE FLIGHT BEFORE CHRISTMAS. In 2013, she then set up her Munich-based boutique outfit Freebird Pictures in 2013 to focus on the production and distribution of films and series for audiences from pre-school to approximately 12 years with such credits as MOLLY MONSTER and OOOPS! NOAH IS GONE...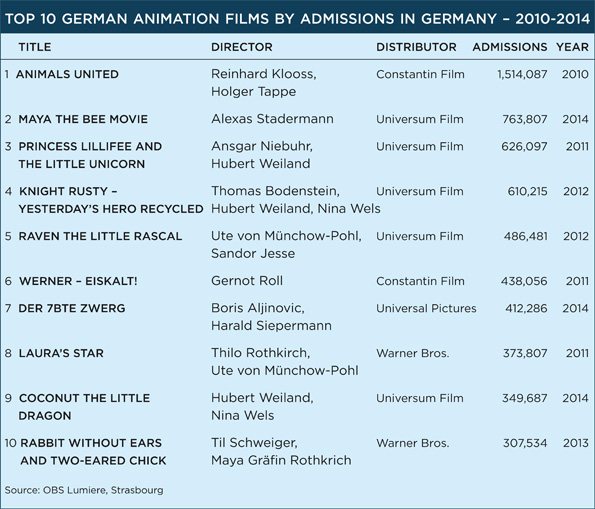 DIVERSE LANDSCAPE
Many of the animation studios and VFX houses may still be based like their live-action colleagues in the traditional "production triangle" of Munich, Hamburg and Berlin, but the development of Germany's patchwork of regional film funds and rapid advances in technology mean that there are important players operating in every corner of Germany.
Nowadays, you are just as likely to find a studio based in Halle, Düsseldorf or Hanover, away from the main centers – while the Stuttgart area has developed into a veritable magnet for animators and VFX artists thanks to Baden-Württemberg's long-standing support for this sector through the MFG film fund and the various film schools and other institutions of higher education in the region.
The German capital is home to such established animation studios as Hahn Film and Cartoon Film as well as such players as MovieBrats, The Big-B Animation, and Pictagon, and is a base for leading VFX houses – from Celluloid VFX (whose credits include the UNDERWORLD franchise and CRANK 2) through RiseFX (CAPTAIN AMERICA, HARRY POTTER AND THE DEATHLY SHALLOWS) to an outpost of ARRI Media (with its headquarters in Munich and other branches in Cologne, Halle, and Frankfurt) and Exozet (CLOUD ATLAS) on the Babelsberg studio lot.
Meanwhile, in Munich, you will find such key players as Caligari Film (behind such successful brands as PRINCESS LILLIFEE and MOONBEAM BEAR) and Trixter (see accompanying portrait) as well as the three times Oscar®-nominated ScanlineVFX which won the Technical Achievement Academy Award® in 2008 for its in-house fluid effects software "Flowline".
Moving westwards to the Stuttgart region, the cluster of animation/VFX companies located there include Studio Film Bilder, the Caligari Film subsidiary Traffix Entertainment and Studio Soi (see accompanying portrait) as well Luxx Studios (GRAND BUDAPEST HOTEL, INDEPENDENCE DAY 2), Mackevision (GAME OF THRONES), and Pixomondo (A GOOD DAY TO DIE HARD, GRIMM).
The animation and VFX sectors have also been nurtured as North Rhine-Westphalia developed into a significant media hub over the last 25 years – with such players as Cologne's TrickStudio Lutterbeck (MOLLY MONSTER) and Düsseldorf-based Lavalabs Moving Images (MULLEWAPP – A PIG'S TAIL).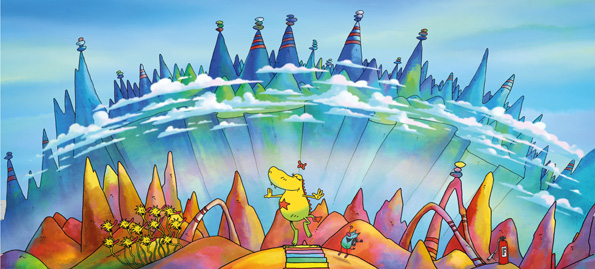 MOLLY MONSTER (© 2016 Sieger/Little Monster/Trickstudio Lutterbeck/ALEXANDRA SCHATZ FILMPRODUKTION/Sluggerfilm/Senator Film München/Peacock Film)
Further north, Ulysses Filmproduktion and Studio Rakete in Hamburg collaborated on the animation features NIKO 2 – LITTLE BROTHER, BIG TROUBLE and OOOPS! NOAH IS GONE..., while Sunita Struck's Animationsfabrik is a partner on the international animadoc ANOTHER DAY IN THE LIFE with partners from Spain, Poland and Belgium, and Trikk 17 began as a stop-motion studio before expanding into a full-service facility.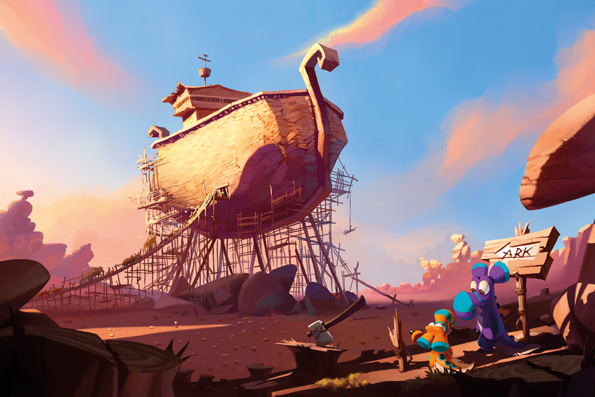 OOOPS! NOAH IS GONE … (© 2014 Ulysses/Fabrique d'Images, Skyline/Moetion Films)
Elsewhere, Halle is home to Tony Loeser's Motionworks (MULLEWAPP – A PIG'S TAIL), Wiesbaden to NFP Animation and the iconic Little Mainzmen characters who appear on ZDF in the early evenings six days a week, Frankfurt is the center of operations for Jan Bonath's Scopas Medien (producing the Oscar®-winning Lauenstein brothers' first animation feature MARNIE'S WORLD), and Hanover a base for Ambient Entertainment (whose CGI features include TARZAN and ANIMALS UNITED) and Alexandra Schatz Filmproduktion, a partner studio for the MOLLY MONSTER pre-school TV series and feature film.
TV AS PARTNER
The global appeal of animation means that producers can look beyond Germany's borders to finance their projects, but expecting German TV to be a reliable and long-term partner seems to be increasingly illusory, according to some companies.
"German broadcasters do not invest enough money in German animated TV series pro­ductions, while spending large amounts on purely foreign acquisitions that are not even co-productions with German producers," Dirk Beinhold explains.
Studio Film Bilder's founder and CEO Thomas Meyer-Hermann acknowledges that television continues to be his company's most important client or cooperation partner, but notes that interest in German animation is "relatively weak" at both the private and public broadcasters "which can be deduced from the program shares."
Indeed, the European Audiovisual Observatory's Focus on Animation report in 2015 cited data from ROVI International to show that there is little German animation on the nation's children's TV channels like KiKA, SuperRTL or Junior. In 2013, the market share came out at 14.6%, compared to 49.8% for other animation from other EU countries and 35.6% from non-EU territitories, while animation 'made in Germany' garnered only a 11.4% slice of the cake in the schedules of the main TV channels.
As Reichert-Facilides points out, one of the challenges currently facing the German animation sector is the "signifcant reduction" in the financing from the broadcasters for animation series. "There are many reasons for this," she explains, "such as the existence of thematic channels, lower budgets and the move to more international productions."
However, the involvement of television and the online portals play a crucial role in establishing brands with the young viewers.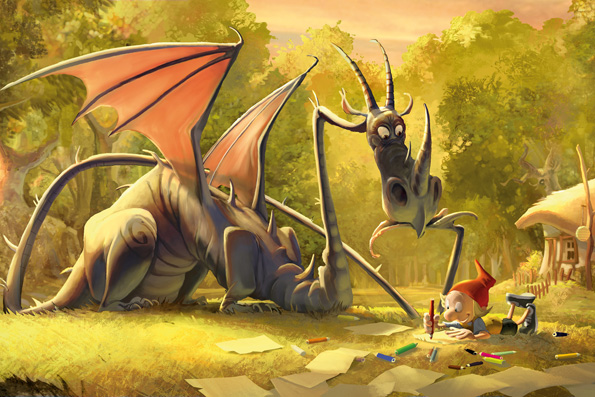 THE 7TH DWARF (© the7thDwarf 2014)
INTERNATIONAL CO-PRODUCTIONS
International co-production for the financing of animated feature films is "definitely indispensable", according to Moviebrats' Alexander Weimer, "to be able to provide state-of-the-art animation which is defined by the major studio productions. The budgets are constantly on the rise in independent animation as well, even though it is still way below the price tag of typical studio features. But it's nearly impossible to raise those funds from Germany alone, so co-production usually is the only option – and it also provides access to a wider network of artists and talents," he observes.
Akkord Film's Dirk Beinhold, who is currently producing the RAVEN THE LITTLE RASCAL TV series with the French production house 2Minutes and additional service providers in China and Canada, points out that co-production is a natural state of affairs for the European animation industry with such institutionalized co-production platforms as the CARTOON Forum and Movie events as well as Animation Production Day during Stuttgart's Festival of Animated Film (IFTS).
"Co-production plays an important role particularly when it's a case of putting bigger budgets together," Freebird Pictures' Tania Reichert-Facilides agrees, although she points out that Germany has "a clear disadvantage in a European context" in not having a tax incentive scheme for production like most other European countries.
Nevertheless, in her position as a board member of the Animation Section at the German Producers Alliance – Film & Television, she has been instrumental in organizing platforms to bring German animation studios together with potential production partners.
This September saw the staging of the third edition of the "German-European Alliances in Animation" workshop at the beginning of the Cartoon Forum in Toulouse where German representatives from the industry and their international counterparts discussed perspectives, trends and opportunities in animation. The focus region for 2016 was the UK and Ireland, after the previous years had seen the spotlight on Poland and the Baltic states (2015) and the Benelux (2014). The workshop was also used as the launchpad for the latest edition of the Animation Made in Germany brochure showcasing animation companies working out of Germany (available as a download from Producers Alliance and AG Animationsfilm websites – www.produzentenallianz.de or www.ag-animationsfilm. com).
Other networking opportunities are offered by the German Reception at the Annecy Animation Film Festival and the Animation Production Day (APD) during Stuttgart's Festival of Animation Film (IFTS). At APD's 2016 edition, around 140 participants from 18 different countries discussed cooperations for the 39 selected animation projects with a total production volume of over 500 million euros in over 600 one-to-one meetings.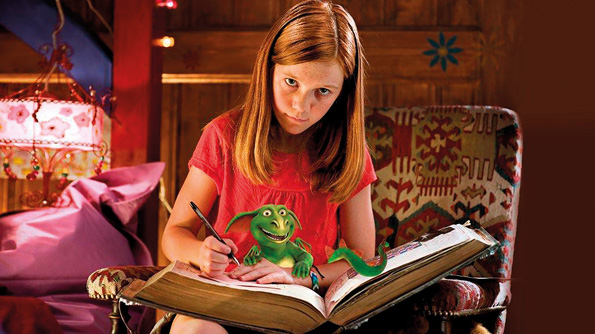 LILLY THE WITCH (© blue eyes/Trixter)
VFX IN GERMANY
"From the creative and technical perspective, German VFX are on a top level comparable with first-class international VFX studios," says Heiko Burkardsmaier, Head of Business & Legal Affairs at Stuttgart-based Mackevision Medien Design. He points to the fact that Trixter and Rise FX are currently vendors for Marvel Studios blockbusters such as CAPTAIN AMERICA: CIVIL WAR and GUARDIANS OF THE GALAXY 2, while Scanline, Luxx and Mackevision joined these two companies on producing effects for INDEPENDENCE DAY – RESURGENCE. In addition, Mackevision has been one of the biggest vendors for the internationally popular GAME OF THRONES TV series since 2013, and Scanline's name can be found in the closing credits as one of the VFX wizards working on Timur Bekmambetov's BEN HUR.
With only very few VFX-laden productions originating from Germany, the VFX houses here "need to work on international productions from US studios in order to survive and hold on to personnel," Burkhardsmaier explains. "The good people want to work on the shows and features where they can use and develop their creative and technical skills. German or European productions have very limited budgets most of the time and the challenge is to find solutions to match their budgets. For US productions, it is often the case that the challenge is to be able to do the work."
TRAINING
Animation was high on the agenda when the Ludwigsburg-based Filmakademie Baden-Württemberg was founded in 1991 by Albrecht Ade, who served as the artistic director until 2000 and had also been behind the launching of the Stuttgart Festival of Animated Film (IFTS) in 1982. This particular focus received another extra boost when the academy then launched its own Institute of Animation, Visual Effects and Digital Post­production in 2002 with courses to train concept artists, animation and effects directors/producers, character animators and effects artists as well as technical directors. In 2014, the animation platform Animation Career Review ranked the Institute for Animation as one of the five best animation schools worldwide. Over the years, numerous prizes at German and international festivals have gone to the institute's students including Verena Fels (MOBILE), Moritz Mayerhofer (URS) and Kasia Wilk (BEAR ME), while Steve Bache, Mahya Goudarzi, and Louise Peter's animated documentary EYE FOR AN EYE was one of the three titles nominated in the 'Best Foreign Animation' category for the Student Oscar®.
In addition, one of this year's graduates, US-born Andreas Feix, saw his graduation film CITIPATI among the five films nominated in the Short and Animation Films category for the 2016 First Steps Awards.
Meanwhile, the achievements of the animation students at Cologne's Academy of Media Arts (KHM) – whose alumni include Vera Lalyko (WINDOW WITH A VIEW) and Simon Steinhorst (EMIL) – were recognized by this year's edition of Zagreb's World Festival of Animated Film with two exhibitions and a film program featuring such young talents as Anna Lytton (MIRROR), Simon Schnellmann (LIFE IS RUGGED), Eunjin Park (678), and Patrick Buhr (WHAT I FORGOT TO SAY).
Veteran German animator Raimund Krumme – whose 1986 film ROPE DANCE won the German Film Award for Best Short – serves as KHM's Professor for Experimental Animation, while Lithuanian-born Zil Lilas was a technical director for Walt Disney before being appointed as Professor for Computer Animation in 2004.
And one of this year's KHM graduates, Ahmad Saleh was the final winner of the Gold Medal in the Student Oscar®'s Best Foreign Animation category with his graduation film AYNY.
AYNY (© KHM/Ahmad Saleh)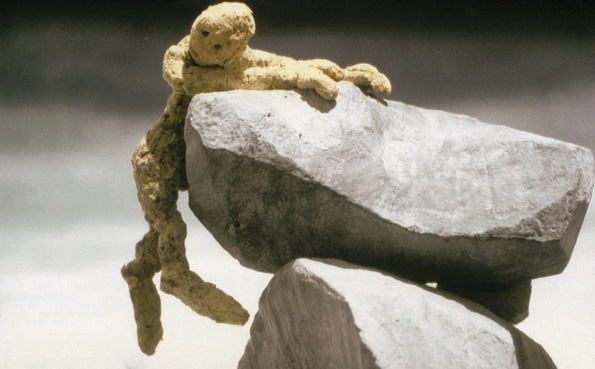 QUEST (© Thomas Stellmach)
On the other side of the country, the animation department at the Kassel School of Art & Design is justly proud of the two Oscars® garnered by the Lauenstein brothers for BALANCE and Tyron Montgomery and Thomas Stellmach for QUEST, a tragic tale of a sand person searching for water in a world of sound.
Now overseen by animator Martina Bramkamp and producer Thomas Meyer-Hermann, the founder of Studio Film Bilder, the department sees new students scoring success such as Elisabeth Zwimpfler (HIDDEN TRACK, Next Generation Short Tiger 2014), Florian Grolig (IN THE DISTANCE, winner of the Audience Award at DOK Leipzig in 2015), Evgenia Gostrer (FRANKFURTER STR. 99A) and the sisters Ines Christine and Kirsten Carina Geisser with their Annecy winner AN ADVENTUROUS AFTERNOON.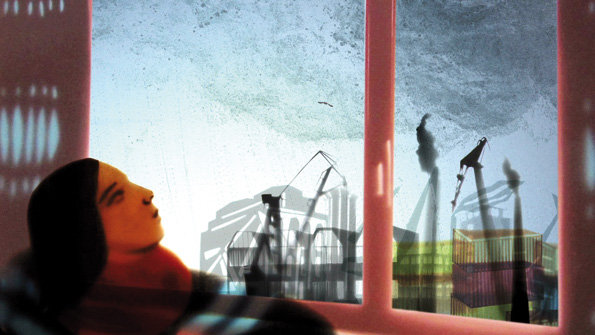 HIDDEN TRACK (© Elisabeth Zwimpfer)
IN THE DISTANCE (© Florian Grolig)
The animation department at the Film University Babelsberg KONRAD WOLF was launched in 1984 and has fostered such talents as Felix Gönnert (BSSS), Ingo Panke (TROMPE L'OEIL) and Izabela Plucinska (JAM SESSION). Recent festival successes by Babelsberg graduates have included Tomer Eshed's FLAMINGO PRIDE and Nicolas de Leval Jezierski's HALF YOU MET MY GIRLFRIEND. Moreover, two animation students from Babelsberg were nominated for this year's First Steps Awards: Benedikt Toniolo with CAFÉ D'AMOUR and Beatrice Baumann with TOYS IN THE ATTIC.
Located next to Studio Babelsberg lot, the Film University now offers a Bachelor of Fine Arts in Animation allowing students to take responsibility for all stages in the production of an animated film – from the development of the original idea through to the sound recording and film playout – , while its Master of Fine Arts in Animation Direction enables students to expand their artistic, technical, dramaturgical, and concept design skills as well as learn how to plan the production of an animated film and manage a team.
As for the VFX sector, "Germany, and especially the Stuttgart region, is probably the best place in Europe to get an education in VFX and CGI with such institutions as [Ludwigsburg's] Film Academy, the Hochschule der Medien, Merz Akademie, Hochschule Offenburg and Fachhochschule Kaiserslautern," says Mackevision's Heiko Burkhardsmaier.
FUNDING
Like their live-action and documentary colleagues, animation producers benefit from the fact that Germany has a federal structure and the Länder are constantly vieing with each other to see who has the most attractive regional funding program. Production funding can be accessed from one of the national funds – BKM, FFA or DFFF.
In recent months, MAYA THE BEE MOVIE 2 received €500,000 from the German Federal Film Board, while LATTE IGEL UND DER WASSERSTEIN, based on Sebastian Lybeck's eponymous book series, was granted €350,000 by the Filmstiftung and COCONUT, THE LITTLE DRAGON 2 picked up €400,000 from MFG Baden-Württemberg.
COCONUT THE LITTLE DRAGON (© Caligari Film)
However, Studio Film Bilder's CEO Thomas Meyer-Hermann points out that animation producers have to overcome two obstacles: "Firstly, many funding committees are not so familiar with the characteristics of animation. In the evaluation of projects, there is often a lack of awareness about creative work specific to animation such as design or storyboard, as well as knowledge about the high budgetary requirements of animation. Some regional funders play a pioneering role by involving animation specialists in the funding operations."
"The second obstacle for continuous work in the animation industry is the fact that funding of TV series is only now gradually becoming possible because the institutions traditionally leaned more towards cinema," Meyer-Hermann notes.
Meanwhile, Moviebrats Pictures' Alexander Weimer points to other aspects of the production process for animation films, which may not be fully appreciated by the funding bodies. "For instance, the development process can easily be more costly than on a live-action film, and to get a project off the ground, attach sales etc., it's necessary to make the best sales teaser possible with a high production value, but that has its price. Your typical development funding not only rarely covers the production of such a teaser, but sometimes they also require you to make one before you apply for the money in order to convince the fund. It's almost like a chicken and egg situation."
Berlin-based MovieBrats Pictures, which had been the German co-producer on Russian director Ivan Tverdovsky's Karlovy Vary competition title ZOOLOGY, is to serve as the delegate producer on the international production HUMP alongside screenwriter Amin Matalqa and former Pixar story manager Ryan Lynch, with Eric Goossens of Belgium-based Walking The Dog serving as co-producer.
The 3D animated desert adventure HUMP, written by Sundance Audience Award winner Matalqa and Matthew Antonelli, will be the feature directorial debut by the former Pixar director R.J. Gibbs whose previous credits included working as a story artist on such Pixar productions as TOY STORY 2, MONSTERS, INC. and FINDING NEMO as well as directing episodes of Pixar TV shows MATER'S TALL TALES and TALES FROM RADIATOR SPRINGS.
NEW INITIATIVES TO SUPPORT ANIMATION AND VFX
Given the concentration of animation and VFX companies in the Stuttgart region, the MFG film fund has been a great champion for this sector serving as one of the founders of the Animation Media Cluster Region Stuttgart which brings some 20 VFX and animation companies – from Pixomondo and Studio Soi through Studio88 to Mackevision and Luxx Studios – under an umbrella. In addition, the fund's new guidelines from 2014 introduced a new funding category to support line producers of VFX-laden feature films or international TV productions.
The Oscar®-winning VFX supervisor Jörn Großhans at Stuttgart-based Mackevision Medien Design received €150,000 for the handling of visual effects for the fifth season of GAME OF THRONES, while Mackevision and Pixomondo were awarded €300,000 to handle the VFX on MTV/Viacom's fantasy adventure series SHANNARA. MFG – which has provided over €6.7 million for the development, production, and distribution of over 110 animated films and series – also sponsors the Lotte Reiniger Award for Animated Film for the best graduation film at the annual Stuttgart Festival of Animated Film (ITFS).
Meanwhile, Bavaria's regional film fund FFF Bayern extended its dedicated international co-production funding program in summer 2015 to include support for VFX producers based in Bavaria. According to Ilse Aigner, Bavaria's Minister for Economics and Media, Energy and Technology, the additional funding would support local companies "in this difficult international competitive market", bolster Bavaria's position as a VFX hub and, simultaneously, benefit the overall sector as the measure would bring additional productions to Bavaria. As a result, VFX studio Trixter was awarded €450,000 for the virtual shoot of CAPTAIN AMERICA: CIVIL WAR, €275,000 was allocated to ScanlineVFX for the digital sets it created for Steven Quale's action film THE LAKE.
BRAIN DRAIN
However, German VFX houses still feel at a competitive disadvantage compared to rivals benefiting from incentive programs in Canada, France, the UK, Belgium, and Ireland, among others. Lobbying efforts are being directed at revising the current German Federal Film Fund (DFFF) and German Motion Picture Fund (GMPF) to enable the VFX sector to become a player on a scale mirroring Germany's ranking in education, creative and technical innovative power.
"We have highly trained artists, but many of them are switching freely between animation and VFX," Moviebrats Pictures' Alexander Weimer adds. "And since the VFX industry is thriving in certain regions in Germany thanks to the Hollywood VFX spectacles, we are some­times faced with a shortage of talented artists."
"There is a great demand everywhere for animators and visual effects artists, whether it's my own company or others like Scanline or RiseFX or at Weta in New Zealand and Pixar and DreamWorks in the US. In fact, we could train even more people," agrees Trixter's Michael Coldewey, who was appointed as a Professor for VFX and Animation at Munich's University of Television & Film last year. "Indeed, all of the animation or VFX students are able to get a job after finishing their studies either in Germany or abroad – and that's not something you can say about most professions, particularly the creative ones," he says.
"We regularly have Academy Award® nominees in the Student Animation section – people who show their talents as animation directors –, but, instead of nurturing them and getting them later to make feature films, they move on to become animators or the like at Disney of Pixar," Weimer adds. "That is certainly great for them and probably a dream come true, but it also means that this cuts short the potential of directors in the making [back in Germany]."
"Germany is like a sleeping giant. We have the talent. In theory, we also have the money for making it big, but we are just not putting it together to unleash that giant," he concludes.
Martin Blaney