"Our company's history so far can be divided into three phases," says Carsten Bunte, a graduate from the Production class of the Filmakademie Baden-Württemberg, who founded the animation studio Studio Soi with six graduates from the Filmakademie's Institute of Animation – Torben Meier, Klaus Morschheuser, Mathias Schreck, Jakob Schuh, Michael Sieber and Saschka Unseld – in the summer of 2003.
"From the outset, we were very diversified with specialization in design, 3D computer animation and compositing, stop motion and set construction," Bunte recalls, pointing out that during the studio's first phase, "we always followed the goal of working in narrative terms and convincing our clients that they wanted something a little different."
Award-winning productions from the early years included the ZDF-commissioned computer-animated shorts ENGEL ZU FUSS by Jakob Schuh and Saschka Unseld and DER KLEINE UND DAS BIEST by Johannes Weiland and Uwe Heidschötter."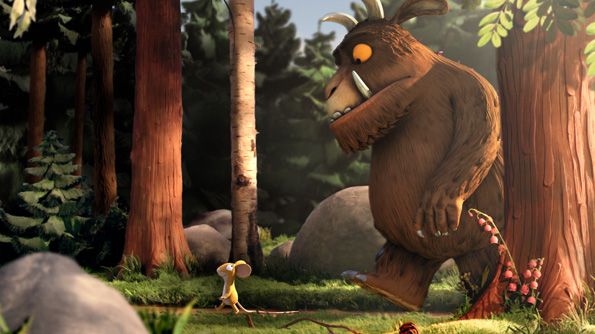 THE GRUFFALO (photo © Magic Light Pictures Ltd.)
The second phase was heralded in 2008 when the studio won two pitches to handle the production of THE GRUFFALO and the Cartoon Network series THE AMAZING WORLD OF GUMBALL.
Studio Soi was brought onboard by Michael Rose's Magic Light Pictures to develop and animate a half-hour special based on Julia Donaldson and Axel Scheffler's bestselling 1999 book The Gruffalo.
The film was seen by over 1 million viewers when it was first aired by BBC 1 on Christmas day 2009 and went on to receive numerous international awards as well as Oscar® and BAFTA nominations.
The collaboration with Magic Light also spawned another two films based on Donaldson's books – THE GRUFFALO'S CHILD and ROOM ON THE BROOM.
"The change in 2008 saw the number of working at Studio Soi increase from 8-10 people to 35 employees, and we now have between 60-80 working with us," Bunte says, noting that around 90% of the staff are non-German coming from such countries as France, Italy, Spain and the UK.
The studio was involved in the technical direction for THE AMAZING WORLD OF GUMBALL series which revolves around the life of a 12-year-old cat called Gumball Watterson, and has produced five seasons since 2008. A sixth season is now in preparation.
"A third phase in our development in 2012/13 saw us starting to develop projects in-house and we raised the finance to produce an international animation series entitled KLUMP, Bunte continues.
Looking back on Studio Soi's first 13 years, he explains that the studio has "always been interested in projects that make real demands on us, that consciously demand we deliver that extra 10%, as well as help us to keep developing and learning as a studio. We don't want to start repeating ourselves."
Martin Blaney