SEVEN TIMES A DAY WE BEMOAN OUR LOT AND AT NIGHT WE GET UP TO AVOID DREAMING — a short piece with a long title, which caused a national and an international sensation in 2014.
No other German short film has managed to gather more prizes over the past year. Among others, it won the major awards in the German competitions at festivals in Dresden, Hamburg, Osnabrück and Oberhausen, went on to triumph at the Com­pétition Labo in Clermont-Ferrand, and finally received the prize as Best Experimental Film at the German Short Film Awards 2014. This series of successes was surprising for several reasons. For one thing, here a young filmmaker suddenly appeared on the scene, who had been seen very little before in the tightly networked field of short filmmaking. Susann Maria Hempel did not study at one of the major film academies, and her previous works had not been shown at festivals or even noticed very much.
In her multiple-prize-winn­ing film she also deals with an obviously dark subject, wrapped in a highly experimental form. Her "story of the passion of an EU-pensioner from Eastern Thuringia" is based on taped protocols recorded in a small town in East Germany over the course of several years. (In this context, EU does not refer to the "European Union" but to "Erwerbs­unfähigkeit" — incapacity to work.)
The texts, newly recorded by Hempel herself, unfold as a sequence of minor handicaps and major tragedies, circling around illness, loneli­ness, imprisonment, and abuse. The distinction between victims and perpetrators blurs increasingly. In a cabinet of horrors and marvels — an "exploding doll's house" (jury statement, Oberhausen) — she conjures these traumas, finding for them images, words and sounds that will continue to haunt the viewer long afterwards, showing a great deal but explaining nothing.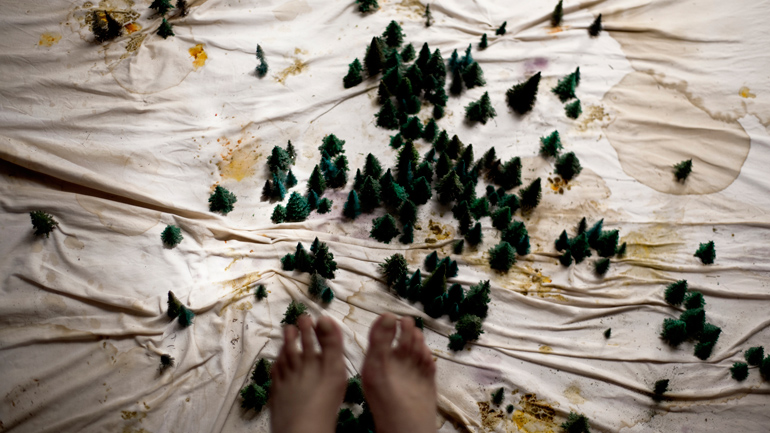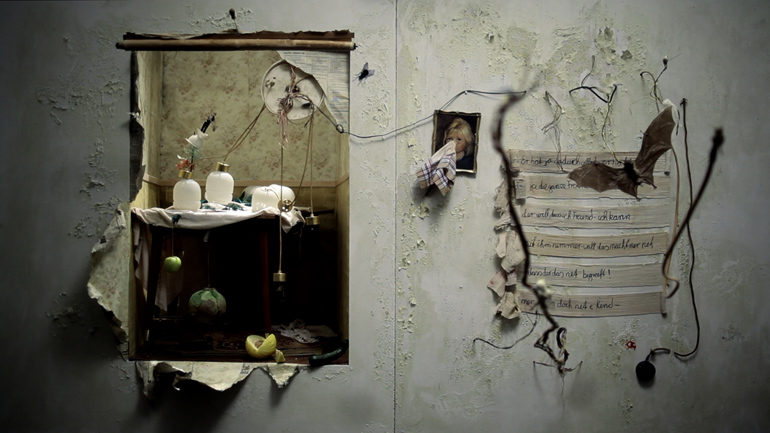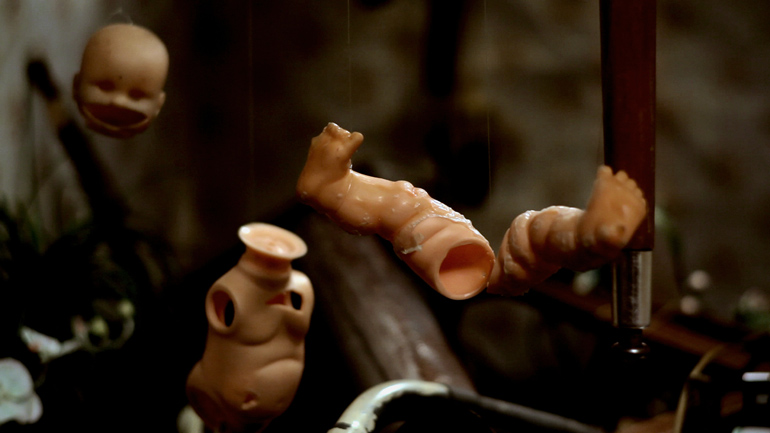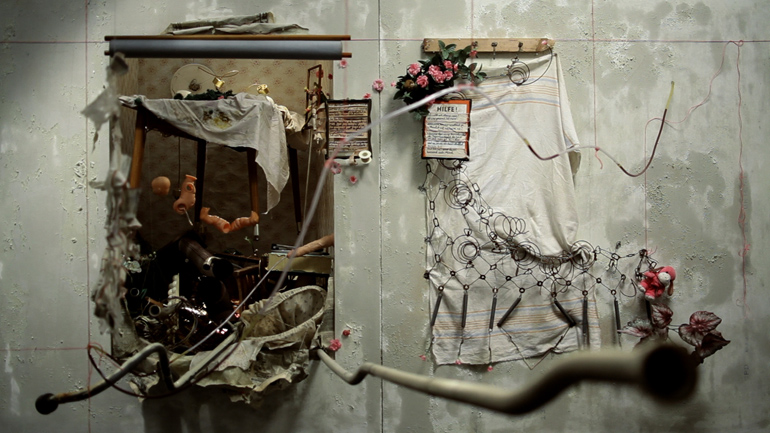 Scenes from SEVEN TIMES A DAY WE BEMOAN OUR LOT AND AT NIGHT WE GET UP TO AVOID DREAMING (photos © Susann Maria Hempel)
The filmmaker's success did not suddenly come from nowhere, of course. Several no less innovative works preceded her successful film, consistently preparing an individual creative signature. Born in Greiz in southern Thuringia in 1983, Hempel was initially a member of the artists' group Theaterhaus Weimar. During her study of Media Design/ Media Art at the Bauhaus University in Weimar she worked on some of her fellow students' film projects and soon made her own initial attempts as a filmmaker.
The experimental film PELÍCULA was produced in 2007, following the tradition of formally avant-garde works by Stan Brakhage, for example. The Spanish word "Película" is understood here in its double meaning of both skin and film. Her graduation film entitled THE MAN WHO DID NOT WANT TO CRY, presented in 2009, is a Kafkaeske parable about social pressure to conform. Its choreographic style already points towards THE WORLD IN STILLNESS CLOUDED but is still bound to a traditional fable structure. Quite the contrary must be said of THE BIRDS II dating from 2010: setting the piece to a soundtrack of electronic music by pioneer Oskar Sala — who also comes from Greiz — and using a high-speed camera develop­ed for scientific purposes, Hempel conceived a video-triptych in which the insects of the title are the graceful pro­tagonists. An ironic miniature setting is employed to create a surprising correlation between their activities and the human — the all too human.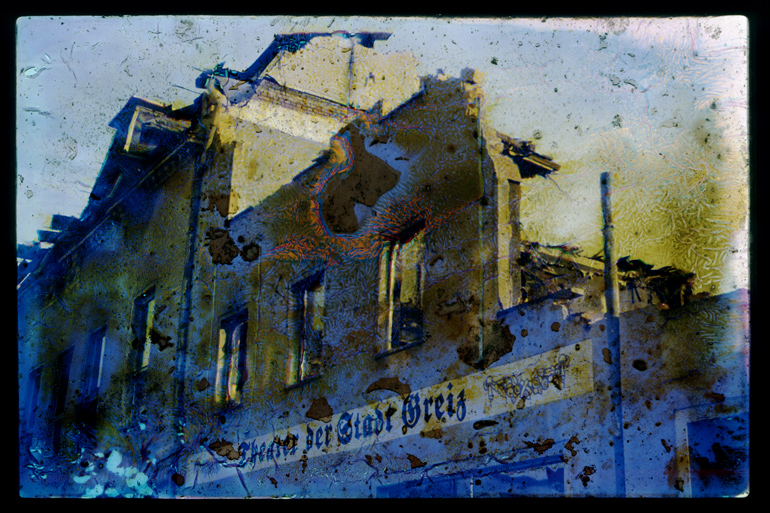 Scenes from THE BIG ROT (photos © Susann Maria Hempel)
THE BIG ROT (2012) recounts the disappear­ance of a highly traditional, provincial theater. This experimental docu­mentary film concentrates very seriously on irreversible cultural-historical losses. Any sentimentality is cancelled out by the work's visual-analytical design. Then THE WORLD IN STILLNESS CLOUDED: various people busy with ritualized actions inside impenetrably interconnected interiors. Doors open and close against all logic, perspectives are penetrated layer by layer, leading the viewer's gaze astray repeatedly. A paralyzed society has become entrenched in this hermetic scenario. It operates using practiced gestures, its home situated in the settings of a supposedly better age, conjuring up a solidarity that probably never existed at all.
"Overall, Susann Maria Hempel's short films are characterized by their stylistic diversity –nevertheless, they reveal a powerful indi­vidual signature. In this context, again it is striking that the artist cannot be assigned to any school or group. She is a loner. Perhaps her most discernible intellectual affinity is to the great animation filmmakers of Eastern Europe (like Jan Švankmajer, Zbigniew Rybczyński or Walerian Borowczyk), who were capable — in the middle of the Cold War — of creating their own artificial universes and setting them up in opposition to the misery of Socialist Realism.
The fact that Hempel returned to her home town Greiz after her studies possibly reflects a similarly positioned, anti-cyclic attitude of resistance. At first sight, this autobio­graphical background reveals little to rejoice in: de-industrialization, young people moving away, the associated erosion of society — it is difficult to find East Germany's "blooming landscapes" in this location. However, the filmmaker's creative energy and originality are so immense that they easily navigate around the shallows of mere accusation. These films hold out re­markably and admirably against the trend, setting a mark of enduring tenacity.
The many awards of the past year have created an ambivalent situation for Susann Maria Hempel. On the one hand, they mean she can keep her independence; on the other hand, of course, she must bear the growing pressures of expectation. It is hugely important for her to take the opportunity presented, deciding without haste what genre, technique and film-length are best suited to her next project. Her small œuvre to date already constitutes a huge enrichment of the German film world.
Dr. Claus Löser