"Our heart still beats for animation, although we make our living with visual effects," says Michael Coldewey who co-founded Trixter with Simone Kraus in 1998 to create visual effects and digital character animation for feature films, television and commercials. While Trixter's headquarters are in Munich's Schwabing district, the company also has an outpost in Berlin, managed by Martin Herzberg with a focus on work for commercials and industrial films, while Kraus has been based Stateside as an animation supervisor for the past 10 years heading up Trixter, Inc. in Santa Monica, as part of the expansion into high-end visual effects for international live-action features.
"Most of the visual effects we do are focused on animation," Coldewey explains. "For example, we animated some rats on Constantin Film's TIMM THALER and the figure of the Black Panther in CAPTAIN AMERICA: CIVIL WAR, were responsible for developing d animating the character of Ultron for AVENGERS: AGE OF ULTRON, and designing the suit for Iron Man in Marvel's IRON MAN 3."
Trixter has also handled VFX for such studio productions as X-MEN: FIRST CLASS, GUARDIANS OF THE GALAXY 2, and INDEPENDENCE DAY 2, and is one of the animation studios with Ulysses Filmproduktion and Dan Krech's Toronto-based Awesometown working on the CGI feature film TABALUGA for Helge Sasse's Tempest Film.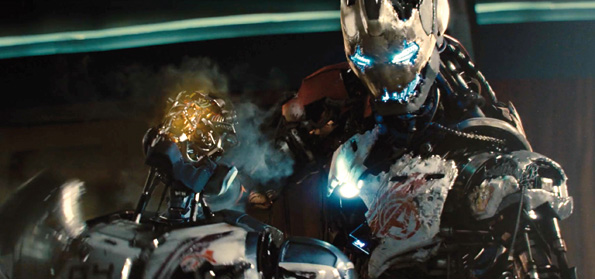 AVENGERS: AGE OF ULTRON (photo © Marvel Studios)
"WE now have a capacity of 500-700 VFX shots per show in Munich and Berlin because we have an extremely good pipeline setup," Coldewey says. "And more than half our artists come from 15 to 20 different nations, although English is working language."
At the same time, the company has also been active as a co-producer for foreign and domestic German productions. "Trixter was still quite young when we acquired all of the film rights to KNISTER's Lilly The Witch book series and produced an animated TV series with 52 episodes," Coldewey recalls. "We then joined forces with the live-action production house Blue Eyes Fiction to produce two feature films and are now preparing a third film with partners from Austria and Belgium.
Keen to expand Trixter's (co-)production output, Coldewey has brought Lucia Scharbatke onboard to work on the development of various film projects, including an adaptation of best-selling author Cornelia Funke's Ghost Knight as live-action with animation elements to be produced with Academy Award®-winner Volker Engel's company Uncharted Territory.
"And this summer saw Trixter's CEO Christian Sommer become a third shareholder in the company alongside Coldewey and Kraus to handle the company's overall management as well as represent the company in lobbying politicians for improved film financing parameters and the introduction of tax incentives in Germany.
Martin Blaney