Hedi, Uli and their son, Finn, have life sorted out. They take each day as it comes, all the while dreaming of the future. Then, suddenly: Hedi gets stuck. The lift she's travelling in breaks down – and then her head does, too. All of a sudden, nothing is the same. Hedi and Uli try to hold onto each other, but their world spins out of control. In a last-ditch attempt to rescue their love, they take a trip to Norway. The aim: to be happy again – for 24 hours, at least.

With a light touch and tender humor, HEDI SCHNEIDER IS STUCK shows that, for the 30-something generation, love is what it has always been: a very fragile thing. After HOTEL VERY WELCOME, director Sonja Heiss once again demonstrates her exceptional skill in treading the thin line between tragedy and comedy. With great affection for her characters, she explores what happens when "normal life" suddenly comes to an end.
Trailer
Director
SONJA HEISS was born in 1976 in Munich and studied at the University of Film & Television Munich. Her other films include: FAST & CLEAN (short, 1999), KARMA COWBOY (short, 2001), CHRISTINA WITHOUT (short, 2004), HOTEL VERY WELCOME (2007), and HEDI SCHNEIDER IS STUCK (2015).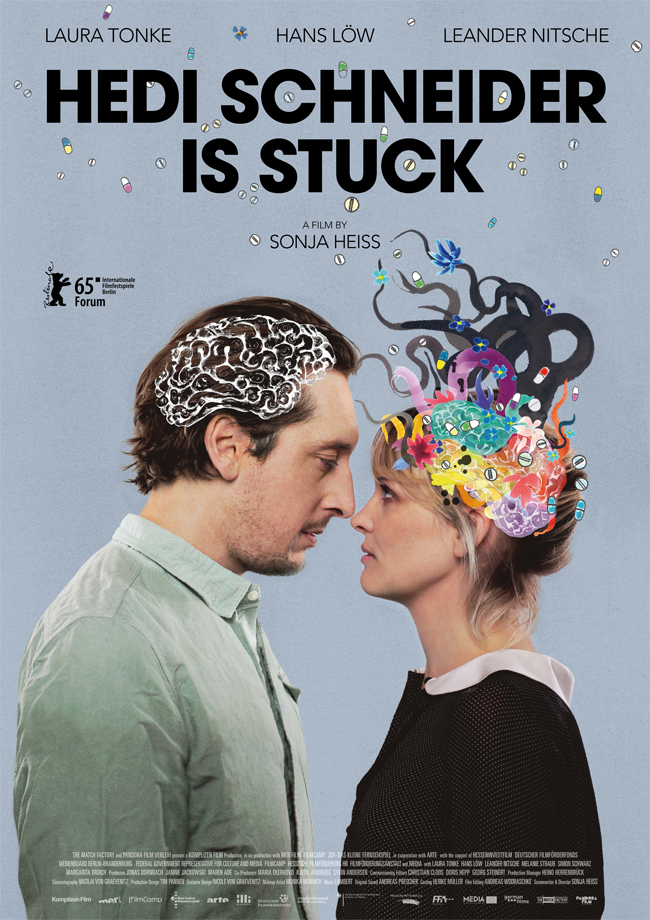 Poster HEDI SCHNEIDER IS STUCK photos © Komplizen Film/Pandora Film 2015